(Fair warning, this post is faffy AND pic heavy. You've been warned.)
Tonight's the night we geeks have been waiting for - the long-anticipated airing of "Day of the Doctor", the 50th anniversary episode of
Doctor Who
. I knew I had to create some nail art to mark the occasion.
Doctor Who
has a pretty special meaning in this house. When hubby and I first started bonding online, what with him being British and me being an Anglophile, it was only natural that the subject of the good time-traveling doctor would arise. Hubby's doc is Tom Baker. Mine is David Tennant. Although I remember seeing the show on PBS as a kid; it was Colin Baker's era, and I remember looking at his ridiculous costume and the not-good monsters and thinking, "this is a little too weird" - even for a weird kid such as myself. It just didn't "take" back then.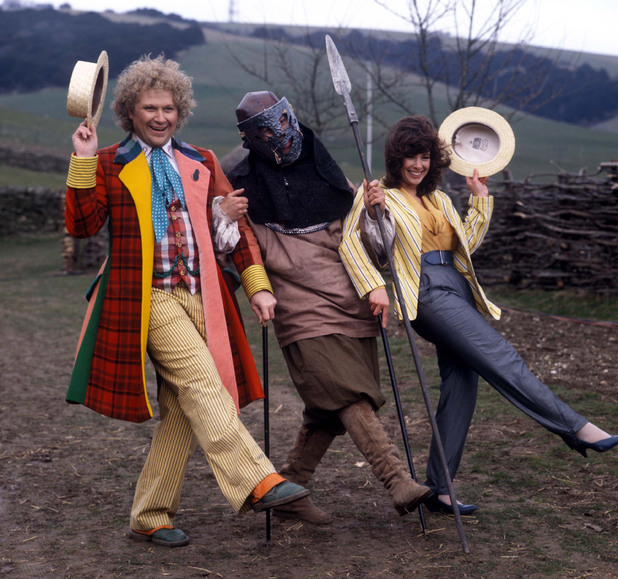 I mean, seriously?
Years later, sitting alone in my apartment late one Saturday night, I saw the show on PBS again as I was flipping channels. I tuned in just to give it another try. Specifically, the episode was "The Sontaran Stratagem" and featured David Tennant and Catherine Tate and aliens in a hostile takeover of the world using computerized emissions devices installed into our cars. In retrospect, it wasn't the greatest episode ever, but there was humor. There was a mouthy redhead. There was a hot guy in a suit. I was hooked. I finished watching the end of series 4 on PBS on Saturday nights because I was single and DON'T JUDGE ME! Eventually I ended up Netflixing the rest of the rebooted series, and made a decent stab at starting from the available episodes of the 1st Doctor, but let's be honest, I don't have THAT much free time, and I gave up before I even got to Patrick Troughton. Either way, I caught up with the "new" series somewhere in the middle of Matt Smith's first season, and have been watching it faithfully ever since, even through all the seasons of Amy Pond who I cannot stand, even though I loved young Amelia Pond in the first episode, and even though she's a mouthy redhead. Go fig.
I mean, seriously.
When hubs and I started comparing Who-notes, he convinced me to watch
Torchwood
as well, though I'd skipped it the first time around. Admittedly it's a good show, but it's still not on my top 5 sci-fi shows. Actually, it probably comes in at a solid 6th place. Again, to deliberately irritate him, I will not list the top 5, though suffice it to say that
Doctor Who
is in the list. Tennant, incidentally, is also on a list. A laminated list. Ahem.
I mean, seriously!
Naturally one of the first things we did when I came to England the first time was go to Cardiff so that he could give me a Who-tour of the high street where Rose ran away from animated mannequins, and where the TARDIS landed to soak up the Rift-juice, and where Bernard Cribbins sold newspapers on Christmas Eve, even though he lives in Chiswick. We found the fan-created memorial to Ianto Jones on the gated-up public entrance to Torchwood, and I can admit that I've jumped up and down in frustration on the stone that is the secret entrance underneath the waterfall tower in Dahl Plaza, even though he and I still disagree on which stone it is but he's obviously wrong because I'm a fangirl and we pay attention to these sorts of details, gorramit!
It's this one.
*Deep breaths*
We've made several trips into Cardiff since then, and usually they include at least one Who-related field trip. I love the show; I love its rich history, and I love how it is ingrained into English culture like tea and crumpets or fish and chips. I could not be happier to be living on British soil than now, during the celebration of the 50th anniversary of a show which I hold partially
to blame
responsible for bonding me with the love of my life.
Also, because I like having pictures of myself hugging Daleks.
So with all that faffing done, let's get to the nails, shall we?
Here's my total look.
And here it is again, complete with my favorite assembly of build-your-own sonic screwdriver. Pretty cunning, huh? (Wait, am I allowed to cross-geek in a tribute post? Who writes these rules?)
The screwdriver also lights up and makes sounds.
Want a closer look?
On my thumb and pinky are cybermen. One coat of China Glaze
Galactic Grey
, faces painted in with Maybelline
Silver Streak
. Black dotting tool eyes in Maybelline
Blackout
and orange rhinestones for the mouth. Technically these should be blue, but I'm taking artistic liberty, because I don't have any blue rectangle rhinestones.
Did I mention it lights up? Rubbish with wood, though.
On my index and ring finger are my very own Daleks. Not an original design, mind you, but I think there may be only so many ways to capture a Dalek on a fingernail.
Galactic Grey
as the base again, Kiss black striping for the center and tips, and black studs for the "eggs". Blue rhinestone eyestalk and green rhinestone "ears" which, on a real Dalek (because Daleks are real, yanno), light up when they speak. Technically these should be yellow, but again, artistic liberty.
And of course, my
pièce de résistance: the TARDIS (Time And Relative Dimensions In Space, for the uninitiated, of which there shouldn't be many because who could stand reading this much crap if they didn't love Who?) flying into the time vortex - all hand-made decals. I started with a clear piece of plastic (a zipper-lock baggie cut into pieces) and laid down clear nail polish. Once dry, I painted on a thick coat of Maybelline Blackout. While that was still wet, I dabbed in Rimmel Double Decker Bus (my new go-to red) and used a toothpick to swirl the design until I was happy with it. I let this dry while I put a coat of Blackout on my nail, and let that dry as well. I then peeled the decal off the plastic and adhered it to the nail using clear polish after trimming slightly. Once it dried on, I cleaned up using acetone around the nail to make a clean background for my TARDIS. Now, my TARDIS was created using a similar method. Again having laid down a dried base of clear polish, I stamped the image of the TARDIS off my MJXII plate in OPI Incognito in Sausalito. Once that was dry, I laid another coat of clear polish over it so that I wouldn't smudge it in the next step, which involved painting in the image using elf Skinny Jeans to give the image a full color, rather than just an outline, which would have disappeared on my vortex background. I also colored in the windows, light, sign, and St John's sticker, but those got smeared when I transferred the decal to the nail, which is why I ultimately covered them with rhinestones and studs. This little stamp has a lot of detail in it that get lost in this particular look, but I will most definitely use it again in another mani, using just the stamp so the details come out. Transferring this decal to the nail also involved trimming the image down to give it a clean edge, though if I'd been a little neater with my painting that step might've been avoidable.
From left: Skinny Jeans, Incognito in Sausalito, Galactic Grey, Blackout, White On, Silver Streak. Not shown: Double Decker Red, because I'm kind of a moron at 2am.
We have found the TARDIS. The Doctor is near. EXTERMINATE!
You should've read that caption in a Dalek voice. If you didn't, shame on you!
Gratuitous pic courtesy of having too many Doctor Who props laying around.
I'm so proud of this mani; it's my favorite one to date. I'm so excited to be part of a couple of really great groups of nail bloggers on FB, and I've invited some of them to join me in celebrating tonight's special occasion with Who-themed nail art of their own, so be sure to take a look at the other looks below, too!
Will you be watching "Day of the Doctor" tonight? Are you as excited as I am for David Tennant to return? Let's talk about it, down in the comments section!